Downloads
KMS-810 flyer.pdf [678 KB]
KMS-200 flyer.pdf [625 KB]
KMS-820 postcard.pdf [625 KB]
KMS-820 MESH flyer.pdf [232 KB]

Accessories:
Read more about:
KMS-820 Data Acquisition Unit
The KMS-820 Data Acquisition Unit (DAU) is developed for EM (ElectroMagnetic) and micro-seismic applications to obtain subsurface resistivity and velocity structure for oil and gas exploration. It also can be used in general purpose acquisition and long term monitoring services.
The system comes with various option to facilitate microseismic and electromagnetic reservoir monitoring. It also synchronizes and integrates with our borehole acquisition system and our marine MT acquisition node.
The acquisition unit has six 24-bit low noise, low drift channels and unlimited digital channels. We use the digital channel in the MT version as input to record 32- bit fluxgate magnetic fields at the same time when acquiring coils. The 24 bit architecture goes to 100 KHz sampling and the 32-bit architecture to 4 000 Hz.
These six channels are sampled simultaneously and synchronized with GPS. In addition, KMS-820 has expandable synchronized digital interface for additional customized timing requirements and has dedicated interface to drive KMS-500 marine or the 5100 land transmitter.
With the KMS-831 32-bit digital interface the unit can be expanded to unlimited channels (though not practical in operational context). The KMS-831 connect to 3 additional channels with up to 4 kHz sample rate.
In a 11 components MT mode you can connect electric fields (analog input), high frequency AMT coils LEMI-118 (analog input), standard MT coils (LEMI-120) (KMS-831 connection) and ultra low frequency digital fluxgate sensor.
Multiple communication and data harvesting options exist: USB cable, SD card exchange, long range wireless, WI-FI via router (when available), and WIFI point-to-point when direct connections is required.
OPTIONS:
KMS-820 L - as KMS 820 but with front end lightening protection

KMS-820 WIFI - standard WIFI chip allowing two WIFI modes:

connection to a router (so you can access it from anywhere over the Internet)
ad hoc direct connection to a WIFI device (like your laptop when you do not have router access)

KMS-831: 32 bit digital interface for 3 analog channels

KMS-410: Field batteries (Lithium Ion; light weight (about 80% less) long lasting (many time longer)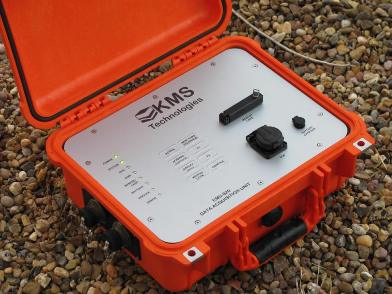 System specifications
| | |
| --- | --- |
| Number of channels | 6 plus unlimited digital |
| A/D resolution | 24 bit - 32-bit with digital interface adapter |
| Signal bandwidth | DC to 50 KHz with three selectable low pass filters (10 Hz, 1 KHz, and 20 KHz), additional low pass filter with half of the sampling rate is implemented inside 24-bit sigma-delta A/D |
| Sampling rate | Up to 100 KHz |
| Input impedance | > 1.0 M Ohm |
| Input signal level | -2.5 ~ +2.5 V, with input signal level from -9.0 V to +9.0 V |
| Signal Gain | 12 different gain settings from 1 to 2,560 |
| DC offset removal | Each channel has its own 16-bit D/A to remove external DC offset from -9.0 V to +9.0 V |
| Timing control | GPS synchronized |
| Wireless network | Long range wireless up to 8 Km (5 miles) depending on terrain or unlimited with relaying mode |
| Data saving and retrieving | Data is saved to SD card; the files can be retrieved from SD card or directly copied to PC through USB mass storage mode without removing SD card |
| Data monitoring | Data can be read back through USB port or wireless network for real-time status monitoring and quality check |
| On-board temperature measurement | Yes |
| Power supply | External +7.5 ~ 32 V DC supply or internal 12V battery; typical power consumption about 5 W. |
| Temperature rating | -20° to 50° C |
| Digital interface | UART interface for digital flux gate or other digital acquisition system |
| Customized digital interface | Digital interface can be customized to accommodate additional customer timing and digital interface requirements |